How to join as a participant
Joining the TYPO3 Online Days 2021 is super easy. All sessions are streamed live on YouTube. So the best way to prepare for participating is to head over to the official TYPO3 YouTube channel and subscribe right now! (Don't forget to click on the little notification bell icon to never miss a live stream or video upload!)
Of course, you can also check out our Events & Program page to find a session you like and mark your calendar. It's entirely up to you!
We're looking forward to having you join in the live chat, exchange ideas, and ask questions during the livestreams.
Can't make it to a specific livestream? No need to worry! All live streams will also be available on the channel at a later time where you can watch them at your leisure.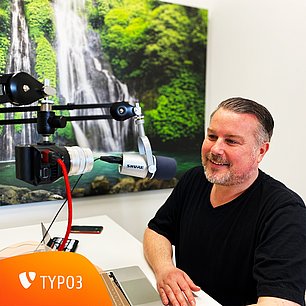 Would you like to join as a speaker during the TYPO3 Online Days 2021? Do you have a business- or development-oriented topic that is closely related to TYPO3? If so, then head over to the Call for Papers page and let us know what you want to talk about during the event.
To ensure a high-quality experience for our viewers during any live stream, we came up with three options to support our speakers:
We support Blackmagic Design hardware. So if you already own a Blackmagic Design ATEM Mini Pro or a Blackmagic Design ATEM Mini Pro ISO, we can connect you to our setup right away.

We send you an easy-to-use Streaming Kit that you can hook up to an internet connection and your computer of choice.

Depending on the health regulations at the time, you may join us at TYPO3 HQ in Düsseldorf, Germany, and use our video recording studio to live stream your session. We have all the gear needed; you only need to bring your laptop and an excellent mood.
Looking forward to meeting you online!